Bill Allen wins Golden Quill Award
October 31, 2010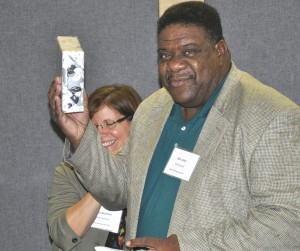 The Golden Quill is our highest honor for members. The award is presented to an individual who has made substantial contributions, not just to his of her own students, but to the growth and quality of scholastic journalism throughout New Jersey.
This year's Golden Quill honoree is William "Bill" Allen, who has been a GSSPA board member for the past six years. He has risen to become a vice president of our association, working tirelessly to advance the study of journalism.
Mr. Allen has been an educator for 16 years. He teaches Graphic Communications and Photojournalism at Communications High School in Monmouth County. Every year his talented students travel to national competitions for SkillsUSA, and every year they come back with national medals.
Mr. Allen is the 38th recipient of this highest of GSSPA Awards. For the list of prior award winners, visit our Awards Page.