The Annual Spring Conference for High School Publication Advisers is Friday, May 2, at Rutgers University, and you still have time to register for this five-hour professional development day addressing topics vital to your news or yearbook publication.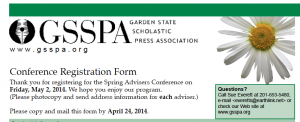 The conference offers the latest materials and techniques in writing, editing, layout and ethics for news and yearbook publications.
This year's sessions include: Â 
* A Panel discussion on the roles of adviser and administrator in fostering an atmosphere for strong student publications, both print and online. The panel includes a principal and experienced advisers.
* How to teach design basics if you are a non-designer adviser * Finding resources for advising
* Taking your news publication online
The conference is your annual meeting and includes continental breakfast, learning sessions, lunch, take-home teaching materials and door prizes.
Conference registration is $30 for GSSPA members and $55 for nonmembers, which includes free parking, breakfast and lunch. Click here for a 
registration form.
Registration questions? Call Conference Chair Sue Everett at 201-653-5480; or e-mail her at
[email protected]
. We look forward to meeting you at the conference as we celebrate scholastic journalism.