It's summer, but already you're thinking about your the fall semester: lesson plans, rubrics, how-to's.
We have a way for you to enjoy your vacation and collect these must-haves at the same time.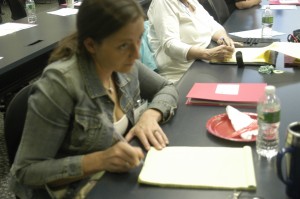 The GSSPA's Summer Workshop for Advisers is 9 a.m. to 1 p.m. on Thursday, Aug. 22, near Belmar at the Jersey Shore. Spend your morning at the workshop, then drive 10 minutes to the Belmar boardwalk, if you wish, to finish with an afternoon of fun.
The workshop is at Communications High School, just off Route 138 East in Wall, New Jersey. It's been scheduled there to give our members easy access to the shore, should you want to enjoy it.
In the morning, you'll get expert advice and instruction on how to make the 2013-14 school year your best yet as a publication adviser. Complete unit lesson plans, techniques for team building, basics for turning your publication into an award winner and rubrics for grading all types of journalistic stories will all be offered.
You will also receive access to our Journalism Dropbox, a repository of lesson plans, rubrics and guides that you can dip into whenever you need them.
The cost of this workshop is $15, which covers Continental Breakfast, learning materials and Dropbox access. You will earn 3.5 professional hours by attending.
To sign up, click here to download the signup flyer and send it with your check (made out to 'GSSPA') to Conference Chair Susan Everett, 78 Lincoln St., Jersey City, NJ 07307. Deadline is Aug. 10.
For questions, contact conference chair Sue Everett at [email protected].