Adviser's workshop offers lessons and plans
August 25, 2010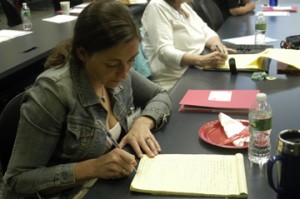 Newspaper and yearbook advisers gathered this month for the GSSPA's Summer Workshop, where they gained valuable information and materials for the new publication year.
Sessions covered such topics as leadership techniques and building staff unity and team spirit. Advisers also received a template of a staff manual that they can tailor to the needs of their own publication staffs.
Advisers will have another opportunity to brush up on their skills and knowledge at Fall Press Day on Monday, Oct. 25, when up to 1,000 of New Jersey's high school journalists gather at Rutgers University for a day of learning. Both students and advisers will be able to expand their skills through sessions from writing and editing to multimedia storytelling.
The Fall Press Day brochure will be posted here in the next few weeks. Member advisers will also receive the brochure in a mailing within the first few weeks of school.